Rolling Pin Hangers
Add some whimsy to your kitchen or dining room. These handmade rolling pin hangers allow you to display your antique rolling pins in an eye-catching way.
Pair of Hearts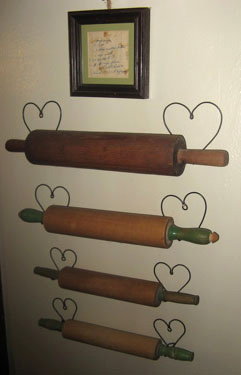 The Pair of Hearts rolling pin hangers fit medium or large rolling pins. Simply hang the hearts the proper distance apart. Your rolling pin handles fit nicely in the hooks. We keep ours hung near our main entry. Though this is the heaviest traffic area in the house, the rolling pins remain proudly in place.
*Because each hanger is handmade, color (black) and exact shape of hanger may vary slightly. Hardware for hanging not included. Use proper nail or screw for your type of walls.
Other Rolling Pin Hanger Designs
We also create made-to-order designs. Below are some examples for hanging large and miniature rolling pins.
Contact Us Today for your custom rolling pin hanger orders.